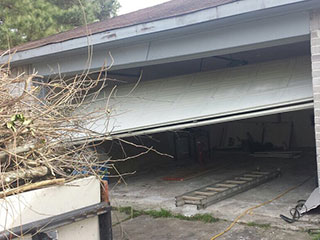 A garage door mechanism consists of dozens of carefully connected and aligned moving parts. Over time, it's inevitable that you'll experience some problems as these components start to wear out, are accidentally damaged, or simply break. There are a lot of different problems that garage door owners can encounter, which is why our team makes it their mission to offer a fast and effective solution to any issue.
Bent and Damaged Tracks
If your door got off its tracks, it could have damaged them or other hardware parts in the process. Even if it hasn't, the tracks can be dented or bent due to some other reason, and will require immediate attention. Damaged sections can stop your door from moving smoothly or at all. Our team will carefully straighten and repair your tracks, replacing any damaged sections that can't be safely used again.
Opener Motor Gear Failure
Perhaps the most crucial single component in your garage door is the motor unit. This is the device responsible for moving your door up and down, and as such, it is subjected to a lot of strain. Over time this contributes to wear and tear, especially if it's not thoroughly lubricated and maintained. We work with all major manufacturers and can provide brand name replacement parts for any opener unit. If it isn't a mechanical issue and you find that some of the unit's electrical components are acting up, you can count on us to repair or replace anything form the wiring to the circuit board as well.
Weak And Broken Springs
Most garage door springs only have a lifespan of a few thousand cycles. If they break, or wear out to the point where they will soon fail, they must be replaced by a professional. We emphasize quality in everything we do, and our team can ensure a durable new spring is fitted, properly lubricated, and set to the correct tension to keep your door working reliably every day. Because unexpected problems can be very inconvenient and dangerous, our company also offers emergency garage door spring repair and replacement services, for those scenarios that require urgent attention.
Take Care Of Your Door Today
Don't put off fixing a problem with your door - all the components are connected, and even a small issue might eventually contribute to a dangerous breakdown. Contact our team at Garage Door Repair Highlands Ranch today to schedule a service appointment.
We also take care of:
Garage Door Receiver Repair
Part Replacement & Repair
Garage Door Weather Stripping
Emergency Broken Spring Replacement